Aspiring Entrepreneurs to Represent The Philippines at FedEx Express / Junior Achievement International Trade Challenge Asia-Pacific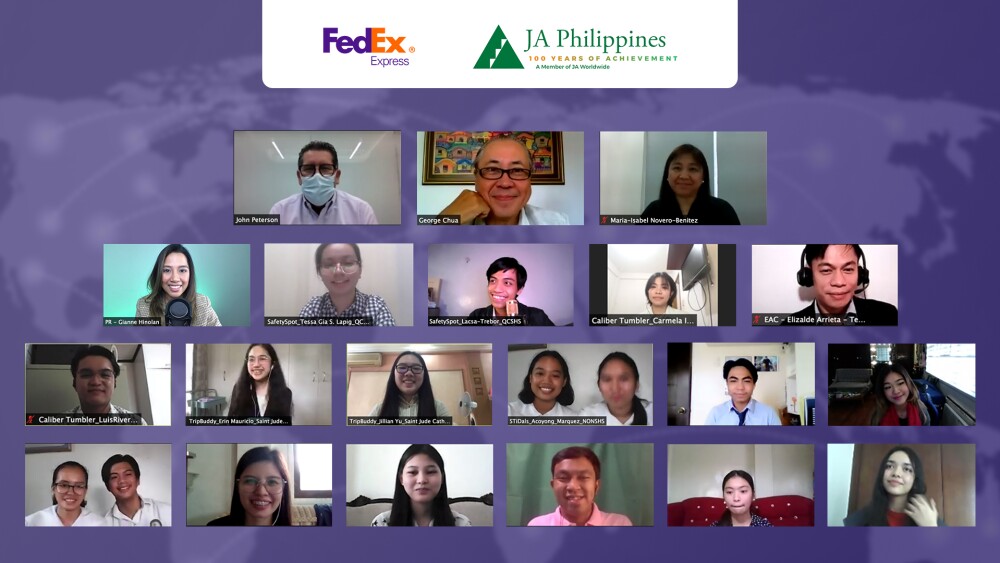 MANILA, PHILIPPINES, January 26, 2021 – FedEx Express (FedEx), a subsidiary of FedEx Corp. (NYSE: FDX) and one of the world's largest express transportation companies, together with Junior Achievement Philippines (JA Philippines), announced the winners of the annual FedEx Express / Junior Achievement International Trade Challenge (FedEx/JA ITC) 2020. The six students who won the Philippines finals will advance to the FedEx Express / JA ITC Regional Finals to be held in March 2021.
Since 2009, FedEx and JA have inspired young talent in the Philippines to expand beyond local borders and explore global trade through the ITC program. The program provides these aspiring entrepreneurs with the opportunity to gain a solid foundation on which to build future careers in business. Due to the COVID-19 pandemic, this year's FedEx Express / JA ITC Philippines competition was held virtually for the first time since the competition began more than a decade ago.
"While the health crisis continues to disrupt our daily way of life, it also brings out ingenuity. We laud the potential of our finalists to create a significant change for the future," said John Peterson, managing director, FedEx Express Philippines. "For 12 years, FedEx and Junior Achievement have engaged with over 4,000 Filipino youth on the fundamentals of business, economics, and entrepreneurship on a global scale. Seeing these young students share ideas that will help build a better Philippines affirms that there's no age requirement when it comes to making meaningful change in our local communities."
This year's local finals challenged the students to design a travel-related product for Cambodia. Besting more than 600 other Grade 7 to Grade 11 students, the top 10 teams presented their market entry strategies on January 12. During the activity, they presented their marketing plans, highlighting their product's unique value proposition, pricing strategy, and sales and distribution channels to a distinguished panel of judges led by John Peterson, FedEx Express Philippines Managing Director.
In preparation for the Philippines competition, 15 FedEx Philippines team members volunteered to mentor the students about the nuances of global trade. They also discussed the importance of teamwork, risk-taking, and self-confidence.
This year's winners who will be competing at the APAC/JA ITC on March 1-3 are:
1. Team Kouprey
Name of students: Aljo Benedicto and Giezhia Diaz
School: Negros Occidental National High School
Product presented: Kouprey Travel Jackpack – a dual-purpose waterproof jacket and backpack made from Hyacinth fibers.
2. Team Sanctuary
Name of students: Emila Rebekka Yaeli Abraham and Raine Santiago Nakpil
School: Multiple Intelligence International School
Product presented: Safety Bank - a multipurpose power bank with built-in alert, siren, SIM slot, and flashlight designed for women's safety.
3. Team Safety Spot
Name of students: Trebor Lacsa and Tessa Gia Lapig
School: Quezon City Science High School
Product presented: SafetySpot - a device and mobile app designed for motorcycle riders, monitoring their helmet use and assisting them with finding parking space.
At the Asia Pacific finals, the students will be randomly grouped into new teams consisting of participants from different markets such as Australia, Mainland China, Hong Kong, Japan, South Korea, Malaysia, Singapore, Thailand, and Vietnam, in order to promote collaboration across cultures. This environment is designed to encourage participants to share experiences from their home countries and discuss best practices.
For more information about the JAITC Workshop, please visit http://japionline.org/home/