Young Vietnamese Entrepreneurs Showcase Bright Business Ideas at the 2021 FedEx/JA International Trade Challenge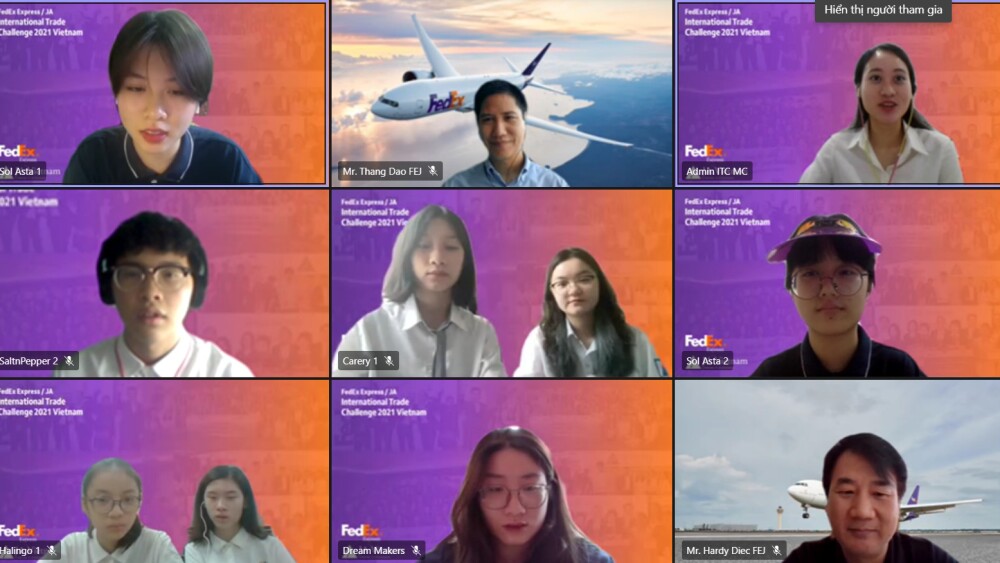 HO CHI MINH CITY, July 16, 2021 – FedEx Express, a subsidiary of FedEx Corp. (NYSE: FDX) and one of the world's largest express transportation companies, announced the six winners of this year's Vietnam FedEx Express/Junior Achievement International Trade Challenge (FedEx/JA ITC). These six young aspiring entrepreneurs from three winning teams will go on to represent Vietnam in the Asia Pacific competition where they will compete against students from ten Asia Pacific markets: China, Hong Kong, India, Indonesia, Japan, South Korea, Malaysia, Philippines, Singapore and Vietnam. To promote cross-cultural collaboration at the Asia Pacific finals, finalists will be randomly grouped into new teams comprising participants from different markets. This is to encourage participants to share experiences with students of other nationalities, gain global perspectives and brainstorm ideas to include regional perspectives.
The six students that will advance to the Asia Pacific FedEx/JA ITC are:



SOL ASTA


Le Ngoc Bang Lang & Ninh Vu Minh Tam

Vinschool Times City High School

Product presented: Sun protection Pack for Pakistan market


Carery


Nguyen Doan Thu Nguyet & Nguyen Thi Ha Phuong

Hanoi – Amsterdam High School for the Gifted

Product presented: Sourcing zero-waste materials to support the handbag industry in Pakistan


Salt & Pepper


Ha Minh Duc & Nguyen Le Ha Thu

Nguyen Binh Khiem High School

Product presented: Hi-mask - Inspired by the Islamic traditional Hijab and by modern antimicrobial technology mask
This year's competition was held virtually for the second year in a row due to COVID-19, and included a series of workshops held in May 2021. These workshops were designed to provide participants with entrepreneurial skills including creating a market entry strategy. The twelve teams with the most promising ideas and market entry strategies were then selected to move on to the national finals, where they presented their business plans to the judging panel. Representatives from FedEx Express and Junior Achievement served on the panel of judges to assess the ideas on the originality of concept, feasibility of strategy and thoroughness of research for the business proposals.
"Now, more than ever, the entrepreneurial spirit is needed to bring to life new business ideas that will spur economic activity and development in a post-COVID world," said Hardy Diec, managing director, FedEx Express Indochina. "With the International Trade Challenge, we hope to harness the talent of young entrepreneurs, whose breakthrough ideas have the potential to prepare Vietnam and the world for what's next. We see the potential in today's students to run startups and small businesses that will be the growth engine of the future. The FedEx / JA ITC competition continues to be a platform that infuses young minds with insights on global trade and the fundamentals of business. The hope is to encourage them to unleash their untapped potential as future business leaders."
The ITC program is dedicated to inspiring and encouraging aspiring entrepreneurial talent to build their future careers in business. The competition provides an opportunity to experience the fundamentals of international commerce under the guidance of business experts. Prior to the national competition, a series of workshops were conducted to familiarize Vietnamese students with first-hand entrepreneurial knowledge and interpersonal skills, in preparation for developing and presenting their business ideas during the intensive selection process. Due to COVID-19, all activities were held online as safety of participants was top priority.
The annual FedEx / JA ITC is a regional competition that aims to nurture the entrepreneurial spirit and skills of students and introduce them to the fundamentals of global trade. The activity provides these aspiring youth entrepreneurs with the opportunity to gain a solid foundation on which to build future careers in business.