Six Young Thai Students Advance to the2023 FedEx/JA International Trade Challenge Regional Finals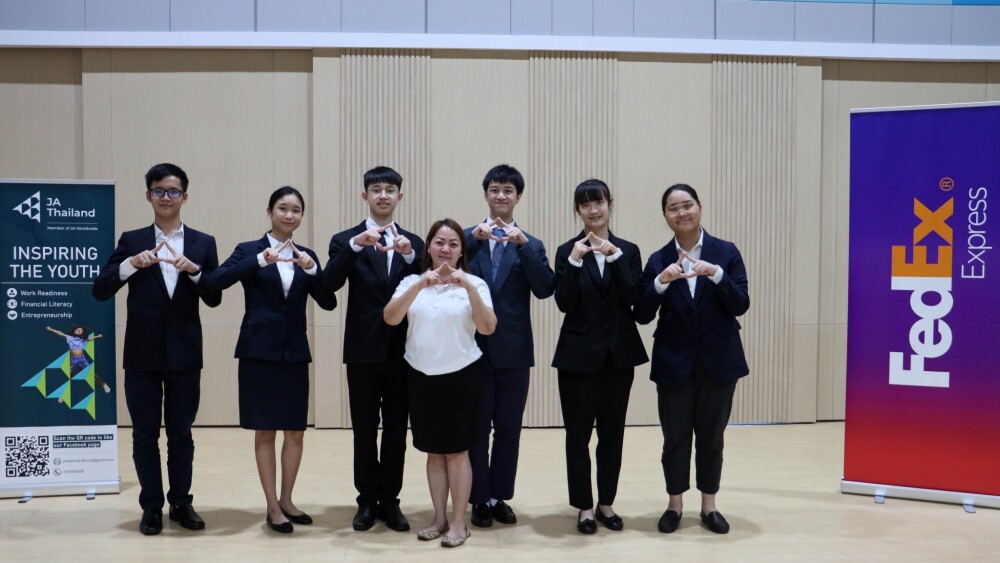 Bangkok, Thailand, 20 July 2023 — FedEx Express (FedEx), a subsidiary of FedEx Corp. (NYSE: FDX) and one of the world's largest express transportation companies, announced the six winners of the 2023 FedEx Express/Junior Achievement International Trade Challenge (FedEx / JA ITC) Thailand Finals. The FedEx / JA ITC fosters business knowledge through practical teamwork exercises and classroom learning. The winners attended a local trade workshop and competed with seven other teams in a local competition.
The six students who will represent Thailand at the regional finals are:
1. Team : Suikerware
Names of students : Chayanat Tanjariyan and Natchaya Chantaramanee
School : Satit Kaset International Program
Product presented : A portable straw made from a sustainable bioplastic called Polyhydroxyalkanoates (PHA) derived from plant materials like sugarcane or vegetable oil.
Brand name : Suikerstraw
2. Team : SnugMug
Names of students : Parm Chitrakorn and Nathawat Kotcharug
School : Satit Kaset International Program
Product presented : A collapsible and heat-retaining mug that has the technology to not only heat the mug on its own but also preserve its energy.
Brand name : SnugMug
3. Team : Aroma Mix
Names of students : Napat Worrasangasilp and Kankanit Arrejtsathien
School : Satit Kaset International Program
Product presented : A cutlery product made of fully biodegradable plant-based materials including a mix of many kinds of flour (wheat, oat, barley, rice, corn, etc.) and water. Not only are these nutritious, but also have tasty flavors and alluring aromas.
Brand name : Aroma Mix
To foster collaborative thinking and encourage diverse ideas from different cultural backgrounds, the six Thai winners will go on to work with students from other Asia Pacific, Middle East, and Africa (AMEA) markets at the 2023 Asia Pacific International Trade Challenge regional finals in August. This team setting enables contestants to exchange experiences with students from Hong Kong, India, Indonesia, Japan, Korea, Malaysia, Philippines, Singapore, and Vietnam, get a global perspective, and brainstorm ideas that work towards achieving a common goal.
This year's competition resumed to an in-person event for the first time in three years since the pandemic hit. A virtual workshop was held in April 2023, which was attended by more than 167 students to heighten their knowledge on global trade and acquire skills to prepare a detailed marketing entry strategy plan. The students were challenged to develop a sustainable alternative to a single-use product of their choice for the South Africa market. This aligns with the FedEx approach to "reduce, replace, and revolutionize" across business activities in order to minimize environmental impacts and add value.
"By offering access to educational opportunities we can equip our future Thai business leaders with the knowledge and tools to build better solutions to solve pressing issues in Thailand," said Tien Long Woon, Managing Director, FedEx Express Thailand and Malaysia. "This year's FedEx/JA ITC topic is sustainability. It is a global concern that all entrepreneurs should consider in their operations. It also helps the younger generation adopt a global mindset and understand how trade can connect new ideas to solve important issues in our communities and create what's next for the betterment of our planet."
Since its introduction to Thailand in 2007, FedEx / JA ITC continues to strengthen its commitment to help students better understand the nuances of international trade. The program has attracted more than 2,249 students with 60 students representing Thailand at the regional finals.
More information about the 2023 FedEx/JA ITC can be found here.