New Report Demonstrates FedEx Economic Impact in Asia Pacific, Middle East, and Africa
FedEx contribution to net economic output across the Asia Pacific, Middle East and Africa (AMEA) region grew in FY2023 with a 19% increase in jobs supported by supply chain spending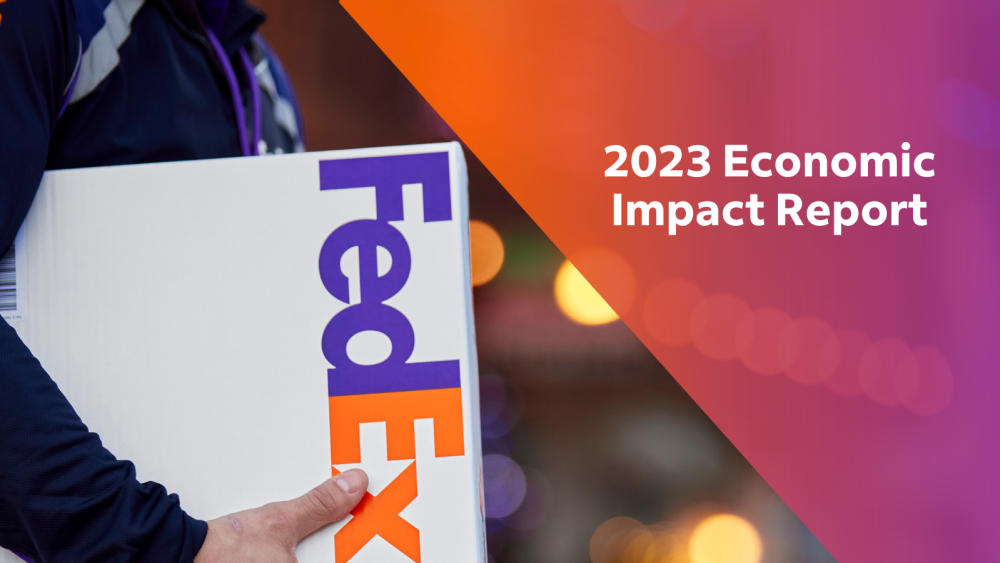 Tokyo, Japan, November 8, 2023 – FedEx Corp. (NYSE:FDX) released its annual economic impact report, analyzing the company's worldwide network and role in fueling innovation during its 2023 fiscal year (FY 2023).[1] Produced in consultation with Dun & Bradstreet (NYSE: DNB), a leading provider of business decisioning data and analytics, the study demonstrates the positive impact FedEx has on individuals and communities around the globe — otherwise known as the 'FedEx Effect.'
"FedEx has helped shape global supply chains and the e-commerce revolution over five decades by transforming the way businesses exchange goods, services, and ideas — all while continuously exceeding the evolving needs of our customers," said Raj Subramaniam, President and CEO, FedEx Corporation. "This report underscores our significant contributions to the economy and dedication to making a positive difference in the communities where we operate."
The report reveals that FedEx contributed more than $80 billion in direct impact to the global economy in FY 2023, despite recent economic pressures. This activity reflects the scale of the network FedEx has developed and the company's ongoing efforts to enhance its innovative services that help businesses of all sizes connect with customers and strengthen their operations.
AMEA impact
FedEx Express serves more than 100 markets across the AMEA region. The study found that with its extensive network, FedEx Express contributed 0.3% of net economic output in the Transportation, Storage, and Communications sector[2]in the region during FY 2023. Across all sectors of the AMEA economy, FedEx Express contributed 0.02% of total net economic output, which grew approximately 6% in FY 2023 to $44 trillion.
The company's impact also included $2.7 billion in indirect contributions to the regional economy in FY 2023. Among specific industries, FedEx Express indirectly contributed an estimated $1 billion to the critical $9 trillion Manufacturing sector.[3]The company's indirect contribution to the Transportation, Storage, and Communications sector[4]was estimated as $772 million.
"The AMEA region has an increasingly prominent position in the global economy. We are committed to supporting the growth we are seeing here by investing in our facilities and network. Both directly and indirectly, our work supports a growing number of jobs in the wider economy, and we want that to continue," said Kawal Preet, president, Asia Pacific, Middle East, and Africa region, FedEx Express. "Our focus is on our customers and creating greater access to the possibilities that global trade brings. We believe that creating an even more connected and sustainable future will strengthen the FedEx Effect for team members, customers, suppliers, and communities across the region."
"By consistently driving innovation and strengthening our services for Japanese businesses, we are empowering them to seize new international growth prospects," said Kei Alan Kubota, managing director of FedEx Express Japan. "Through recent enhancements such as the removal of out-of-pickup-area surcharges and shorter delivery times for inter-city shipments, along with our community programs, we are fully dedicated to helping local communities flourish and contributing to Japan's economic growth."
The FedEx economic footprint in the region continues to grow.

FedEx spent $3.7 billion with suppliers in the AMEA region in CY 2022.
FedEx supplier spending makes a significant contribution to the small- and medium-sized business (SAM) market. The number of small business jobs supported by FedEx supply chain spending increased the most in AMEA and Europe, with both regions recording a 19%increase. In AMEA, 50% of FedEx supply chain spending went to SAMs.
FedEx Express announced plans to invest in additional capacity by establishing the new South China Operations center in Guangzhou.
FedEx opened several new facilities in the region, including a new pickup, delivery, and self-pickup/drop-off station in Taiwan; a new warehouse in Batam, Indonesia; and a new domestic hub in Adelaide, Australia that also supports international air freight shipments.
The newly opened FedEx air gateway at Incheon International Airport in South Korea has double the package-sorting capacity of the previous facility and additional refrigeration chambers to support cold-chain shipments.
FedEx Express is digitizing its operations to develop its smart logistics network. This includes investing in an artificial intelligence-powered sorting robot at its sub-regional South Pacific regional hub in Singapore in December 2022.
FedEx announced plans to open its first Advanced Capability Community (ACC) in Hyderabad, India to support the development of technological and digital innovations that enable FedEx to provide even greater value in the global supply chain ecosystem.

Giving impact
The report reveals that FedEx donated $58.6 million globally in FY2023 to charities and local non-profits in the communities where its team members live and work. In AMEA, this includes environmental programs, childhood education, entrepreneurship, and healthcare initiatives to help improve lives. In April 2023, more than 1,000 FedEx volunteers and their families across 22 AMEA markets, including Japan, participated in the company's 50 Days of Caring initiative. This involved a variety of sustainability and environmental protection activities including tree plantations, beach and park clean-ups, and hosting educational seminars on eco-living/eating, waste segregation, road safety, and sustainable logistics.
FedEx is committed to connecting the world responsibly, through its stated goal of achieving carbon-neutral operations by 2040 and pursuit of investments in renewable energy to power its operations.
FedEx celebrated 50 years of operations on April 17, 2023. The company has the most extensive transportation network in the world, providing services to more than 220 countries and territories. Additionally, FedEx employs approximately over 500,000 people across more than 5,000 facilities and moves approximately 14.5 million packages per day.
Read the full FY 2023 FedEx Economic Impact Report and further explore the FedEx Effect across the AMEA region at fedex.com/economicimpact.
[1] Fiscal year (FY) 2023 is defined as June 1, 2022-May 31, 2023.
[2] As defined by the United Nations Conference on Trade and Development (UNCTAD).
[3] As defined by UNCTAD.
[4] As defined by UNCTAD.