FedEx Teams up with World Vision Foundation to Support Social Needs of Thai Youth



FedEx volunteers devote time to promote sustainability and contribute to improving students' well-being.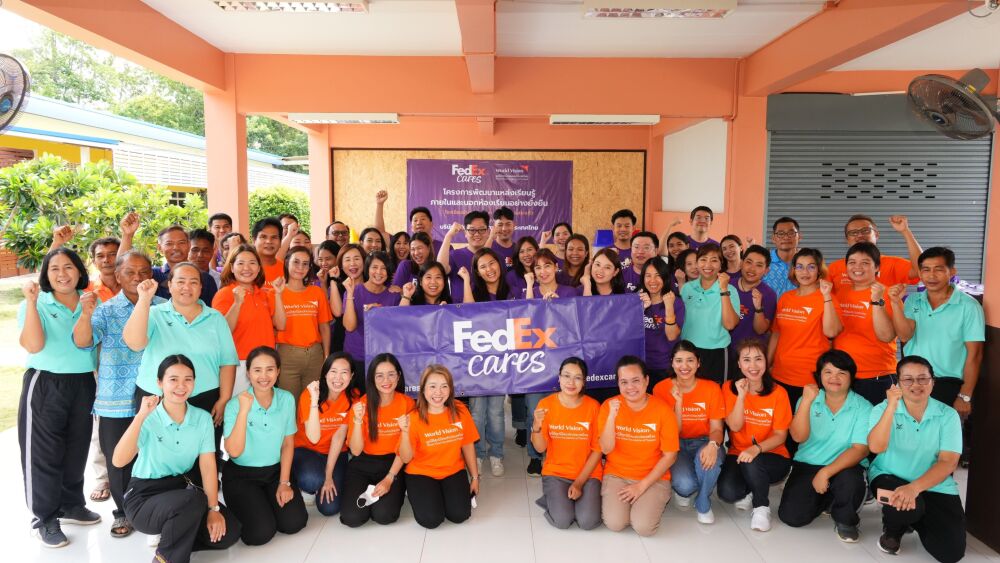 Bangkok, Thailand, 2 August, 2023 – FedEx Express, a subsidiary of FedEx Corp. (NYSE: FDX) and one of the world's largest express transportation companies, recently collaborated with the World Vision Foundation of Thailand to raise awareness about sustainability and deliver sports equipment to students in rural areas of Thailand.
As part of the local FedEx Cares program, over 30 volunteers from FedEx Thailand banded together to instill the importance of environmental protection to more than 200 students and teachers at Baan Nong Ake School in Sa Kaeo province. The volunteers installed recycling bins to promote proper waste segregation. They also shared ways to reuse, recycle, and recover waste, as well as upcycle used materials. Other initiatives included planting a vegetable garden, creating non-toxic glycerin soaps, and donating equipment and supplies to support students in their learning.
In a second program, FedEx provided free delivery of sports equipment to 43,182 students at 337 schools in 32 remote locations across Thailand.
"The FedEx Cares program demonstrates our ongoing commitment to do good and positively impact our local communities by educating students about sustainability and encourage recycling to protect our environment." said Tien-Long Woon, Managing Director, FedEx Express Thailand. "I am thrilled to see the passion from our team members who have dedicated their time to share their knowledge on sustainability and create more possibilities for Thai youth."
"Reducing education inequality is one of the priorities for World Vision Foundation of Thailand. We aim to drive this across all educational institutes in our project areas to provide students with a clean and healthy learning environment. We are blessed to be collaborating with like-minded organisations, such as FedEx to help realize our mission of connecting students to more learning possibilities and building sustainable communities," said Wimolrat Seesan, Regional Programme Implementation Manager - North & Central, World Vision Foundation of Thailand.
Promoting a more sustainable future in communities in Thailandcomplements the company's goal of achieving global carbon neutral operations by 2040.. FedEx has a tailored approach to efficient and responsible resource management that focuses on reducing, replacing, and revolutionizing both in its air and ground operations. Specific initiatives include fuel savings initiatives, vehicle electrification, investment in renewable energy, and implementation of sustainable packaging solutions.
The initiative is part of the FedEx Cares global community engagement program. To learn more about FedEx Cares initiatives across Asia Pacific, Middle East and Africa, read here.