FedEx Empowers Future Entrepreneurs of Japan at the 2023 FedEx/ JA International Trade Challenge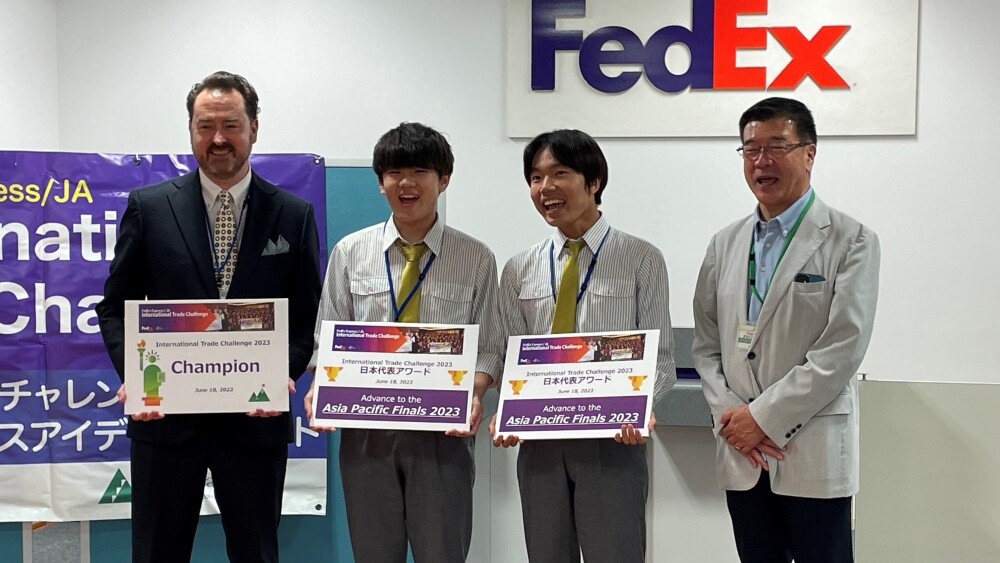 TOKYO, Japan, June 19, 2023 — FedEx Express (FedEx), a subsidiary of FedEx Corp. (NYSE: FDX) and one of the world's largest express transportation companies, announced the six winners of the 2023 FedEx Express/Junior Achievement International Trade Challenge (FedEx / JA ITC) Japan Finals. The FedEx / JA ITC fosters business knowledge through practical teamwork exercises and classroom learning. The winners attended a local trade workshop and competed with five other teams in a local competition.
The six students who will represent Japan at the regional finals are:
1.
Names of students: Keita Hattori, Yuki Sugita
School: International Christian University High School
Product presented: The students researched the food culture in target market and developed a food packaging for local supermarkets and shops, which is made from seaweed and edible. The packaging for sausages contains seasoning which can be dissolved into the pan to add flavor when cooking. The material is biodegradable within a few days after being discarded.
2.
Names of students: Yuya Takehisa, Yuzuka Seto
School: Hiroo Gakuen Senior High School
Product presented: Students developed a special bottle that can be used during exercise and outdoor activities. It is lightweight and has an inverted triangular shape that can be carried by hanging it from a bag with a clip and be folded for storage when not in use. Environmentally friendly materials are used considering the increase in plastic waste and its impact on the environment.
3.
Names of students: Aoi Araki, Itsuki Son
School: Mita International School
Product presented: A reusable coffee pod for coffee machines was developed in response to the high consumption of coffee in the target market. While most coffee pods are made of plastic and are disposable, the product is made of stainless steel, and is reusable, and can be used universally in most coffee machines.
To foster collaborative thinking and encourage diverse ideas from different cultural backgrounds, the six Japanese winners will go on to work with students from other Asia Pacific, Middle East, and Africa (AMEA) markets at the 2023 Asia Pacific International Trade Challenge regional finals in August. This team setting enables contestants to exchange experiences with students from Hong Kong, India, Indonesia, Japan, Korea, Malaysia, Philippines, Singapore, Thailand and Vietnam, get a global perspective, and brainstorm ideas that work towards achieving a common goal.
This year's competition resumed to an in-person event for the first time in three years since the pandemic hit. Virtual workshops were held in May 2023, which were attended by around 160 students to heighten their knowledge on global trade and acquire skills to prepare a detailed marketing entry strategy plan. The students were challenged to develop a sustainable alternative to a single-use product of their choice for the South Africa market. This aligns with the FedEx approach to "reduce, replace, and revolutionize" across business activities in order to minimize environmental impacts and add value.
"We are very pleased to support the program again this year and contribute to cultivating the entrepreneurial mindset of high school students in Japan," said Ken McMahon, Managing Director, Customer Solutions & Special Services, FedEx Express. "Creative thinking and taking an agile approach to problem-solving are vital for today's and tomorrow's entrepreneurs to succeed in global markets. This program equips students with the tools and knowledge to navigate a rapidly changing business environment."
Since its introduction to Japan in 2008, FedEx / JA ITC continues to strengthen its commitment to help students better understand the nuances of international trade. The program has attracted nearly 2,000 students, with six students representing Japan at the regional finals.
More information about the 2023 FedEx/JA ITC can be found on the JA Japan website.