FedEx Career Camp Prepares Thai University Graduates for Future Careers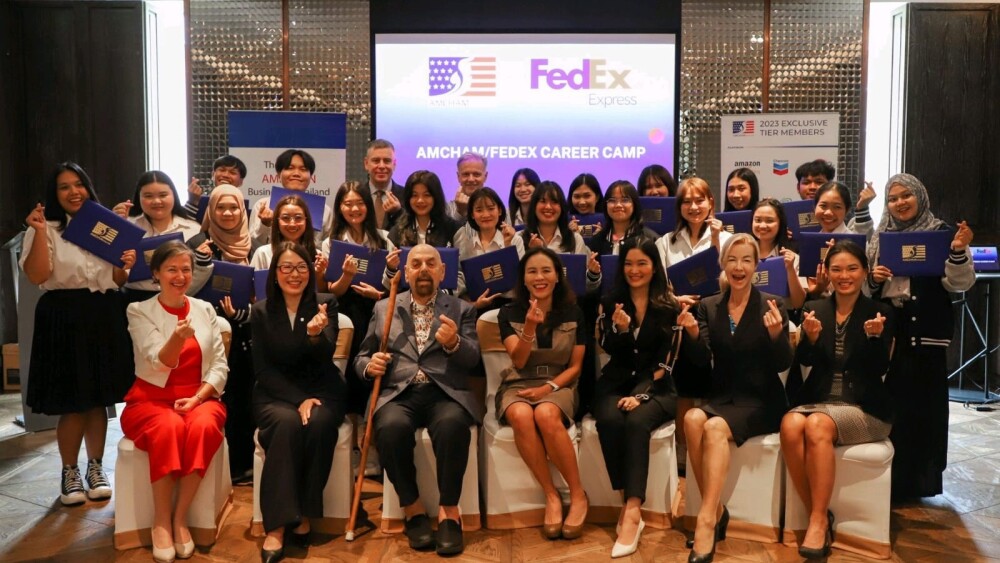 Bangkok, THAILAND, July 26, 2023 – FedEx Express (FedEx), a subsidiary of FedEx Corp. (NYSE: FDX) and one of the world's largest express transportation companies, recently collaborated with the American Chamber of Commerce in Thailand Foundation (ATF) to host the annual FedEx Career Camp at the AIA Training Center to help final-year undergraduates enhance their career prospects and foster their professional development.
This year, the program coached 20 students from 12 universities across Thailand offering them hands-on training and valuable career enhancing skills guided by FedEx mentors. Over the course of four days, students were given the opportunity to develop a professional resume and gain experience in a simulated job interview conducted by FedEx human resources professionals.
"Through our FedEx Cares Global Entrepreneurship pillar, we are committed to developing next generation leaders and are proud to be supporting this career development program for the eleventh consecutive year," said Tien-Long Woon, Managing Director, FedEx Express Thailand and Malaysia. "The FedEx Career Camp is one of our many initiatives that support the social and economic needs of local communities. The program helps create more possibilities for Thai graduates, as it helps them gain a deeper understanding of how companies operate as they embark on their careers and contribute to the local economy."
"The FedEx Career Camp has broadened my perspective and helped me recognize a range of career possibilities that can pave the way for my future success," said Parichat Khuanmateta, a final-year student from Khon Khen University. "The simulated job interview session conducted by HR professionals of leading companies has helped identify my improvement areas and sharpen my performance in the process."
To-date, more than 513 students from universities across Thailand have attended the FedEx Career Camp and gained valuable skills to prepare them for the professional world.
The program is part of the FedEx Cares global giving initiative. Learn more about the FedEx Cares initiative here.