FedEx Celebrates 40 years in Thailand, by Donating towards Local Community Initiatives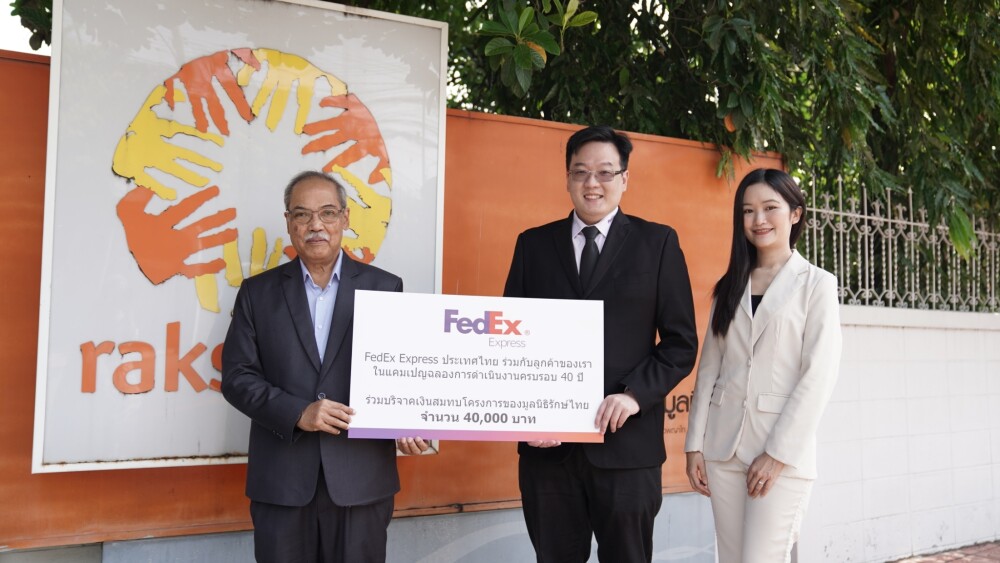 BANGKOK, THAILAND – December 13, 2022 – FedEx Express (FedEx), a subsidiary of FedEx Corp. (NYSE: FDX) and one of the world's largest express transportation companies, donated THB 40,000 to Raks Thai Foundation to support the development of underserved local communities in Thailand.
To commemorate its 40 years of operations in Thailand, FedEx has been marking several events including celebrating this milestone with customers. Customers were invited to turn their rewards into charitable donations to Raks Thai Foundation. 10% of customers selected this charitable option and FedEx topped-up the donation that contributed to a total of THB 40,000.
For four decades, FedEx has been enhancing its network to offer reliable time-definite services and support Thai businesses in tapping import and export opportunities. At the same time, the company has been using its network and expertise to deliver for good to build stronger communities. FedEx is nurturing Thai youths as budding entrepreneurs through long-term initiatives including the annual educational program FedEx/Junior Achievement International Trade Challenge, AMCHAM Career camp and collaboration with Suan Sunandha University to offer work experience for students in the logistic industry.
# # #

About FedEx Express
FedEx Express is one of the world's largest express transportation companies, providing fast and reliable delivery to more than 220 countries and territories. FedEx Express uses a global air-and-ground network to speed delivery of time-sensitive shipments by a definite time and date.

About Raks Thai Foundation
Founded in 1997, Raks Thai Foundation is a Thai successor to CARE International (Thailand) that works with disadvantaged groups to promote strong communities and build a society where people can enjoy better quality of life, have equal rights, and are able to determine their own future in a sustainable way.

For further information, please contact:
Napat Shimada, Webershandwick Thailand
(66) 2-343-6183, Mobile: (66) 89-450-0225
Email: NShimada@webershandwick.co.th